The cast: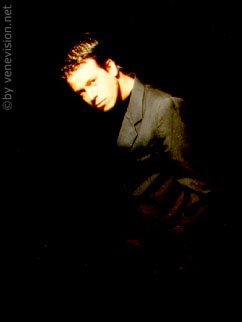 Diego Bertie as- Simon Luna
Diego Felipe Bertie Brignardello was born on 2.11.1967 in Lima,Peru.
His novelas are:El Hombre que debe morir,Natacha(1990),Canela,Obsesion(1996),Leonela,Cosas del Amor(1998),Amantes de Luna Llena(2000),Cazando a un millionario(2001).
His movies:Muerto de Amor,El Bien Esquivo,Bajo la piel,Sin Compasion,Desierto Infernal,Batallas en Silencio,Reportaje a la Muerte.
His favorite color is blue;favorite perfume:One -of Calvin Klein;favorite actors:Marcelo Mastroyani and Edward Norton,actresses:Michelle Pfeiffer and Meryl Streep.
In his freetime he does sports(windsurf,water skiing,to ride bike,aerobics,squash,soccer),yoga and likes to play guitar,to listen to music and to read.
His favorite movies are:Ciudadano Kane and Casablanca.
Besides spanish ,he also speaks english.
Diego Bertie admires people,who still have dreams;people who thanx to their belief achieve the impossible;and people who are not afraid to be themselves.He has 3 wishes:that there was more light in the world,he wants his family and friens to be healthy,and always to be able to work.He is afraid of the diseases.What he likes to do is to travel,to work in big theaters all over the world,to make movies in other countries(in Peru also).He has a daughter.
D.B. is Simon Luna in "Amantes de Luna Llena",his character is considered as not very positive in the beginning of the novela-everybody think that he is responsible for the death of Isabel Rigores.Not having idea what has happened with Isabel ,he falls deeply in love with Isabel's sister -Camila Rigores,whose only purpose is to get revenge of Simon (as she thinks he was the reason for Isabel's suicide).But later the truth is discovered and Simon was wrongfully accused,he is innocent.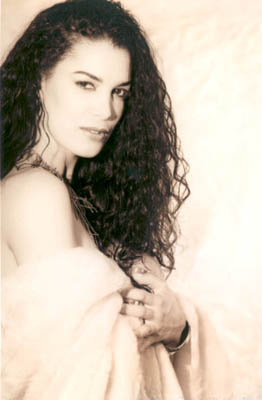 Ruddy Rodriguez as- Camila Rigores
Ruddy Rodriguez de Lucia was born on 20 March 1967 in Caracas,Venezuela.
She is Miss Venezuela 1985 and she represented Venezuela in Miss World,where she was 3rd.
Before being Miss Venezuela,she was part from a theatral group-Rajatabla.
Her first telenovela out of Venezuela,was in Colombia-"Las Ibanez".She has also played for 45 seconds in "His name is danger",one of the famous parts of James Bond-007.
Ruddy has also made music CD-"Es un sueno".
Her telenovelas are:Enamorada(1986),Inmensamente tuya(1987),Nina Bonita(1988),El Magnate(1990,USA),Mala Mujer(1991,Peru),La Mujer Doble(Columbia,1992),Pasiones secretas(1993,Columbia),Amores de Fin de Siglo(1995),Aguamarina(USA,1997),Amantes de luna llena(2000).
Her movies:The living daylights(1987),Contacto en Caracas(1988),La Guerra Blanche(1991),Besame Mucho(1994,Venezuela),Amanecio de Golpe(1998).
Ruddy Rodriguez is Camila Rigores in "Amantes de Luna llena",she wants to destroy Simon Luna's life(as she thinks he is the reason for Isabel's suicide),but instead of hating him,she begins to fall in love with him...and with the time she discovers that he has nothing to do with her sister's death,and is free to love him...(:

Astrid Carolina Herrera as- La Perla
Astrid Carolina Herrera Irrazabal was born on 23 June 1963 in Caracas,Venezuela.She has studied acting in the school of the famous actress Amalia Perez Dias.Her debut is in the telenovela "Mi amada Beatriz" in 1987.In 1984 she was Miss World.
After taking part in our favorite telenovela "Amantes de Luna Llena" she signed a contract for the novela "Secreto de Amor"(Venevision,Miami).
She likes to listen to music .Her favorite sport is the basketball.
Her telenovelas are: Mi amada Beatriz(1987),La Pasion de Teresa(1987),Abigail(1988),Alma Mia(1989),Emperatriz(1990),Las Dos Dianas(1992),La Loba Herida(1992),Divina Obsesion(1993),Morena Clara(1994),Amantes de Luna Llena(2000),Secreto deAmor(2001).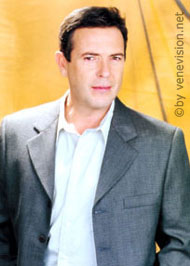 Carlos Mata as- Alejandro Linares
Carlos Mata was born on 28 August in Caracas,Venezuela.
In his freetime he spends much time with his children,who are his life.
He speaks spanish and english.Carlos hates the cruelty with the children and loves the life.He is afraid of dying before his children grow up.He describes himself as a good ,generous and loving man,who also has many fears.
If he wasn't an actor,he would be historicer or journalist.
He spends ungforgettable night with his children in "La Gran Sabana".
His telenovelas:Adriana(1985),Cristal(1986),La Dama de Rosa(1987),Senora(1988),Las Dos Dianas(1992),Dejate querer(Argentina,1993),Enamorada(1999),Amantes de luna llena(2000),Guerra de Mujeres(2001).
His movies:Desnudo con Naranjas(1994),Borron y Cuenta Nueva(2000).
In "Amantes de luna llena" he is Alejandro,who is thought as a happy married man,but soon he meet the true love with Perla...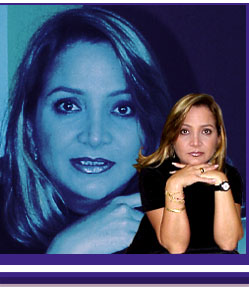 Elba Escobar as- Lucrecia Rigores
Elba Rodriguez Escobar was born on 14 November 1954 in Prado de Maria,Venezuela.
Her favorite music is the rock.Her favorite bands are Led Zeppelin,Limp Bizkit and Metallica.But she also likes the salsa and the singer Gilberto Santa Rosa.
She wanted to be a proffesor in physics and mathematic,but later she was chosen for "El Jardin de los Cerezos" de Anton Chejov-her first professional play in the theater.
Her telenovelas are:Emilia(1980),Emperatriz(1990),La Loba Herida(1992),Pecado de Amor(1995),Contra Viento y Marea(1997),El Pais de las Mujeres(1998-99),Toda Mujer(1999),Amantes de luna llena(2000).
Rosalinda Serfaty as- Valentina Linares
Rosalinda Serfaty Rosenstock was born on 24 April in Buenos Aires,Argentina.
As a couple work in a novela,she mostly likes her work with Jean Carlos Simancas,Carlos Cruz,Mariano Alvarez and now with Ivan Tamayo.She also admires the actors:Flavio Caballero,Mimi Lazo,Daniel Alvarado,Lilibeth Morillo.She has 2 daughters.She likes the poetry,her favorite writer is Jorge Luis Borges.Rosalinda describes herself as a sensible and human person.She is now divorced but is ready to give herself a new chance for love.
Her telenovelas are:La Revancha(1989),Mundo de Fieras(1991),Luz Maria(1998,Peru),La Gata Salvaje,Amantes de luna llena(2000),La Nina de mis Ojos(2001).
In "Amantes de Luna llena",she is Valentina Linares,the wife of Alejandro Linares,who wants to keep her marriage safe at all costs,but things are getting worse as Alejandro falls in love with Perla...now Valentina is ready to fight for his love...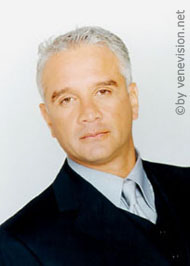 Aroldo Betancourt as- Facundo Montoya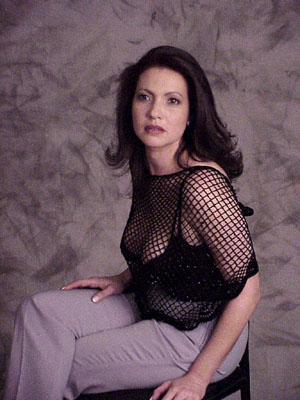 Beatriz Valdes as- Sol Rigores
Beatriz Valdes was born on 12 May 1964 in La Habana,Cuba.
She is a single mother and has a 10 years old son-Mauricio.
Her telenovelas of Venezuela are:Piel(1993-93),El Paseo de la Gracia de Dios(1993),Volver a Vivir(1996),Cambio de Piel(1997),Reina de Corazones(1998),Luisa Fernanda(1998),Amantes de luna llena(2000),Guerra de Mujeres(2001).
Her favorite singers are Sting and Phil Collins;Her favorite food is sushi and pasta;
If Beatriz wasn't an actress ,she would be a singer.Between some of her most valuable objects is a letter of Che Guevara.When she has more time to travel,she would like to visit some arabian and asian countries.And when she goes somewhere to dance ,she prefers salsa.She likes to be with her friends,to read and to listen to music.
Her favorite writers are Orson Scott Card and Hermann Hesse;and her favorite movie -the french "Moliere".
Beatriz Valdes wishes that there are still people with dreams.
In "Amantes de luna llena" ,she is Sol Rigores,a strong and arrogant woman...but also a woman,who after all ,shows a great love for her husband Leon Rigores...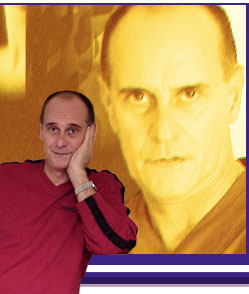 Jorge Cao as- Leon Rigores
Jorge Cao Blanco was born on 2 January on Caibarien island.His career began 36 years ago,nowadays he is known as one of the best latin american actors(theatre,cinema,television).
His parents are Antonio and Aurelia.When he was a little child ,he was called Jorgito.After many years,he is called Don Jorge(today also).He is married to a colombian woman.He was married once before and got divorced.Don Jorge thinks that the woman is the most beautiful creation...
He likes to go to the sea,where he feels very good.He likes to invite people to his home and to show his skills in cooking.
Elisa Escamez as- Custodia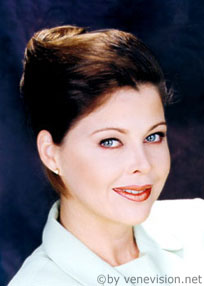 Milena Santander as- Tata
Milena Santander was born on 25 March in Caracas,Venezuela.
Her telenovelas are:Quirpa de tres Mujeres(1996),Samantha(1998),Amantes de luna llena(2000),Guerra de Mujeres(2001).
Her favorite food is the pasta and the japanese food.In her freetime ,Milena prefers to be with her 8-year old daughter.
Her favorite colors are :yellow,green,blue and rose.
Besides spanish ,she knows a little-Italian.
She hates the lie,and loves the truth,the sincerity.She describes herself as a good and loving person,who doesn't like to make other people suffer.She says:"Don't do to other people that ,which u don't want to be done to u."
Milena Santander admires her parents,also Steven Spielberg,Gabriel Garcia Marquez.
She would have wanted to know Elvis Presley...
If she wasn't an actress,she would be psychologist.
In "Amantes de luna llena" she is Tata Calcano,the wife of Tony Calcano(one of the chiefs of the hotel).She is a naive woman in the beginning,but later changes...and breaks up with her husband(as he is a true Don Juan)...she is ready to find the man of her life.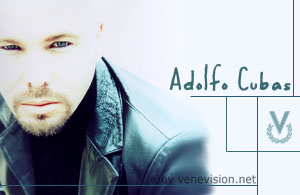 Adolfo Cubas as- Macedonio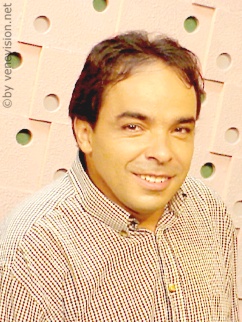 Fernando Villate as- Juan Chiquito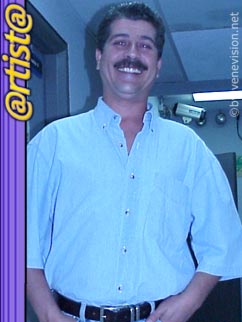 Roberto Lamarca as- Troconis
Roberto Lamarca was born on 4 October in Italy.
His favorite food is the italian.He speaks italian ,although he went to live in Venezuela in his early years."Our funny Troconis" loves in his life mostly:his 3 children,his wife...his family.He is afraid of what could ever happen to his relatives.Roberto describes himself as a person with big sense of humor,calm.He admires his father.
His favorite film is :Cinema Paradise.His favorite actors/actresses from Latin America are:Elba Escobar,Caridad Canelon ;Gustavo Rodriguez,Orlando Urdaneta.
also :Meryl Streep and Robert De Niro.He would have liked to play in "The godfather".He wolud also like to know better some european countries as France,Greece and Germany.
He would spend an unforgettable night with Sandra Bullock.
In "Amantes de Luna Llena" he is the funny picolo Troconis,who always tries to be original...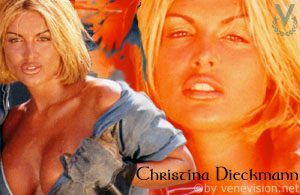 Christina Dieckman as- Barbara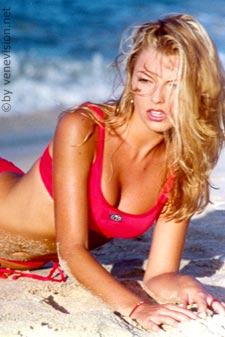 Marjorie de Sousa as- Maira