News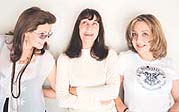 The popular theatrical play "Monologos de la vagina"(Monologues of the vagina) by Eva Ensler,has been set also in Venezuela.The actresses who are in it,are: Elba Escobar(Lucrecia in "Amantes de Luna Llena"),Beatriz Valdes(Dona Sol in "Amantes de Luna Llena"),Carlota Sosa(Renata in AdLL),Eva Moreno(Cruz Maria in AdLL),Tania Sarabia,Gledys Ibarra.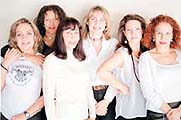 Diego Bertie will be the main actor in the brazilian telenovela "Todo Vale"(2part),together with Itati Cantoral.In the meantime,Ruddy Rodriguez is now acting in the colombian telenovela "El Inutil",which is having success in USA.
Luis Abreu is working on the novela "Exstasi",which was stopped for a little while.It caused a scandal in Peru,because of its content!!!(it's about drugs and prostitution)
Carlos Mata is divorcing.He has been married for 15 years to Marlene Maseda.They have 3 sons ,and for Carlos it is very difficult to separate from them.):

Astrid Carolina Herrera was in hospital in Miami for 2 days.She was very tired physically and mentally.She fainted and was later taken to one of the best hospitals in Miami.Lately she was working streunous on the telenovela "Secreto de Amor".